EDUCATE. ADVOCATE. EMPOWER.
A trusted community leader since 1920.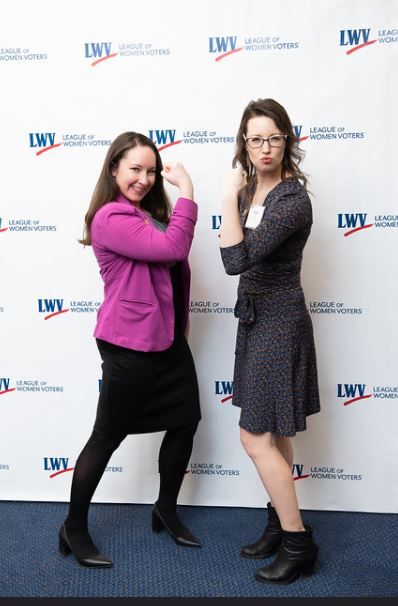 Our Mission
The League of Women Voters is a nonpartisan political organization that encourages informed and active participation in government, works to increase understanding of major public policy issues, and influences public policy through education and advocacy.
Democracy is not a spectator sport.
What We Do
The League of Women Voters is wholeheartedly political, working to influence policy through advocacy. However, the League remains a nonpartisan organization, neither supporting nor opposing candidates for office at any level of government. It is the original grassroots citizen network, directed by the consensus of its members and mobilized whenever necessary.
For 100 years the League has been a nonpartisan, activist, grassroots organization that believes voters should play a critical role in democracy.
The League of Women Voters is a people's organization that has fought since 1920 to improve our government and engage all Americans in the decisions that impact their lives. We operate at national, state and local levels through more than 800 state and local Leagues, in all 50 states as well in DC, the Virgin Islands and Hong Kong. We never endorse or oppose political parties or candidates, but we are political.
Formed from the movement that secured the right to vote for women, the centerpiece of the League's efforts remain to expand participation and give a voice to all Americans. We do this at all three levels of government, engaging in both broad educational efforts as well as advocacy. Our issues are grounded in our respected history of making democracy work for all Americans.
Local History
Jackson County has long played an active role in the work of the League of Women Voters over most of the last 100 years. In 2015 our local League was reborn with the support of President of the state League of Women Voters along with the mentoring of the Lansing League's Co-Presidents. Click here to read more about LWVJA history.
Diversity, Equity, and Inclusion
The League of Women Voters Jackson Area is an organization fully committed to diversity, equity, and inclusion in principle and in practice. These are central to the organization's success in working to create a more perfect democracy.
The League of Women Voters of the United States is emphasizing its commitment to diversity, equity, and inclusion through policy and education. Our local membership is proud to join with the national League in this.
The official policy of the national League follows:
There shall be no barriers to full participation in this organization on the basis of gender, gender identity, ethnicity, race, native or indigenous origin, age, generation, sexual orientation, culture, religion, belief system, marital status, parental status, socioeconomic status, language, accent, ability status, mental health, educational level or background, geography, nationality, work style, work experience, job role function, thinking style, personality type, physical appearance, political perspective or affiliation and/or any other characteristic that can be identified as recognizing or illustrating diversity.
In other words as League members we hope to demonstrate a culture of inclusion. That means looking at personal and organizational implicit bias. It means being open to everyone. It means a commitment to dialogue over debate. It means we are willing to make an effort to measure up to our commitment.