Voting and Elections
What LWVJA is Doing
We are all equal at the ballot box, but only if we vote. We work hard to engage Jackson voters every year ensuring they have the information they need to participate in elections that determine our future. LWV has long been a trusted source of objective and nonpartisan election information.
What LWVJA is Doing in 2021:
Partnering with MLive
LWVJA partners with MLive to provide coverage of our state and local races and proposals. For the past several years, the LWV of Michigan has partnered with MLive to publish a printed version of the League's state-level Voter Guide in a number of communities, including Jackson County.
VOTE 411

Use the League's online voter guide at VOTE411.org to see the state and local candidates on your ballot, and learn how they answered our questions.
---
Michigan's New Voting Rights Law Passed in 2019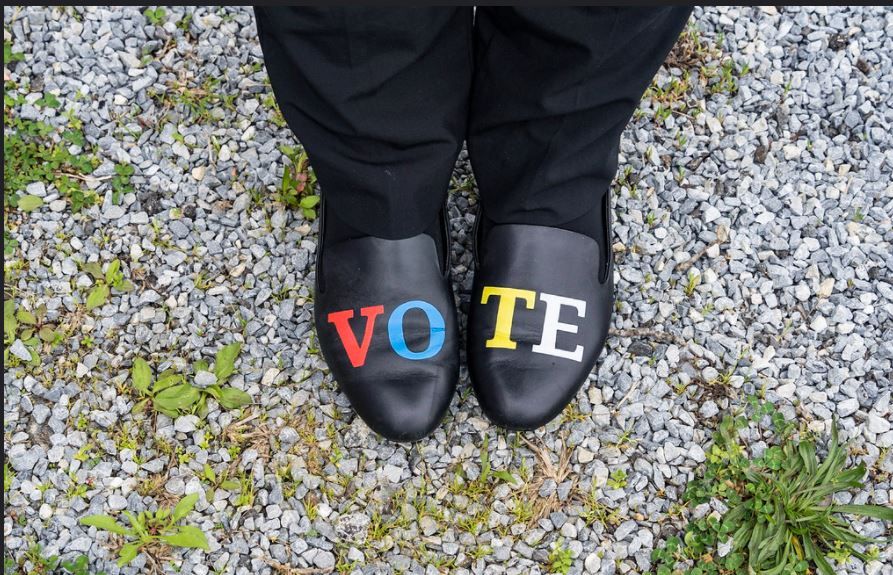 In November 2019, Michigan citizens passed statewide ballot proposal 18-3, adding important Voting Rights to the Michigan Constitution.
Register to vote anytime (through the 15th day before the Election). Choices include:
In person to Secretary of State, City/Township or County Clerk's office. Enter your address in the Michigan Voter Information Center to find your city or township clerk or county clerk.
By mail (click here to download an application) by filling out a mail-in voter registration application and mailing it to your local city or township clerk. You can also get mail-in voter registration forms from any county, city, or township clerk's office, and most libraries.
When applying for services at state agencies that provide public assistance (such as Medicaid, WIC and food stamps) or services to people with disabilities.
Voter Registration Drive, by filling out a voter registration application and giving it to a private organization to turn in for you.
Online (when it is implemented)
Register to vote from 14th day before the Election up to and including Election Day:
Beginning the 14th day before the Election – including same day registration, you must register in person at the clerk's office and show proof of residency. Voters who need to register or update their registration address can register and vote in the City/Township Clerk office (until 8 pm). Voters already registered must vote at their polling location.
Proof of Residency
Beginning the 14th day before the Election, you must register in person at the clerk's office and show proof of residency. Proof of residency includes all of the following:
Driver's license
Personal ID card
Any of the following (if proof is current and has your name and address on it): Current utility bill, Bank statement, Paycheck (Electronic is OK), Government check or government document (Electronic is OK)
Automatic Voter Registration
All eligible citizens who are not already registered to vote will be automatically registered to vote if they conduct any business with the Secretary of State office, unless the citizen opts out. There are safeguards to prevent ineligible residents from being accidentally registered to vote.
No Reason Absentee Voting
ALL eligible and registered voters in Michigan may now request an absent voter ballot without providing a reason. Absent voter ballots are available to registered voters for all elections. They provide a convenient method for casting a ballot instead of attending the polls on Election Day. Application for an absentee ballot are available at the Secretary of State's Office by clicking here.
Choices
In Michigan, there are no longer any restrictions to obtaining an Absentee Ballot
Beginning 45 days before the Election you can vote via an absentee ballot through the mail or in person at your local clerk's office. Apply for an Absentee Ballot either: In person at your local City/Township or County Clerk's office OR Download an application at www.michigan.gov/sos.
SAME DAY VOTING. You can both apply for and vote in the same visit to your local City/Township Clerk's office until 4 pm the day before the Election. You will fill out an Absentee Ballot and leave it at the Clerk's office OR you can apply for an absentee ballot in person at your local City/Township Clerk's office and take your ballot home (and return by 8 pm on Election Day).
EXTRA HOURS! City/Township/County Clerk offices must be open for at least 8 hours the weekend before the Election to allow for registration and voting by Absentee Ballot. Check for your clerk's specific hours at www.mi.gov/vote
Straight Party Voting
The option to select all the candidates from one party by simply voting a Straight-Party Ballot will always be an option if there is a PARTISAN section to the Ballot. This box eliminates the need to check each partisan candidate individually.
Military Ballots
Additional protections for military and overseas civilian ballot can be found here.
Secret Ballot
Protections are strengthened, especially for those with disabilities. For more information, please visit the Michigan Secretary of State Office website.