Voter Registration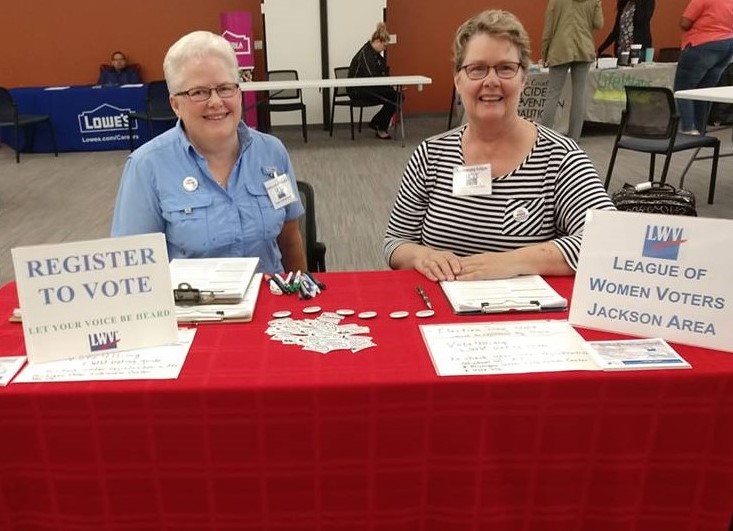 If you are unsure of your voting status, click the LWV VOTE411 logo to the right. This will not only tell you if you are registered to vote, but will provide you with answers to all your voting needs.
Am I Eligible to Vote?
 You must be a U.S. Citizen
You must be at least 18 years of age by Election Day
You must not be in prison or jail serving time for a conviction. Ex-convicts who have completed their sentences and who meet all other requirements listed above are eligible to register and vote in Michigan
You may register to vote up to 15 days before Election Day
You may also register at the clerk's office from 14 days before Election Day up to, and including Election Day
The Michigan Secretary of State overseas all elections in Michigan. For more information on voting and election, visit the Secretary of State's Michigan Voter Information Center on the Secretary of State's website.
What ID is Needed to Register?
Two forms of identification are required, one of which must list your current address.
Do I need to show identification when I vote?
Voters must show photo I.D. OR sign an affidavit. See acceptable forms of ID at the Secretary of State website by clicking here.
Do College Students need to vote in person?
NO. Any college student may request an absentee ballot. You may use your home address/address on your driver's license to register to vote and request an absentee ballot. If you use a different address on your voter registration, your driver's license will be automatically changed. Further information is available on the LWVMI website by clicking here. You can register to vote in the State of Michigan if you are:
18 (or will turn 18 by the date of the next election)
a U.S. citizen and
a resident of the State of Michigan.
---
2022 Elections
May 3, 2022: Local Elections in specific jurisdictions
August 2, 2022: Primary Elections
November 8, 2022: General Election