Redistricting in Michigan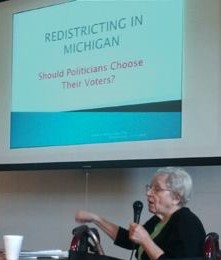 We believe Congressional districts and government legislative bodies should be apportioned substantially on population. We oppose partisan and racial gerrymandering that strips rights away from voters.
In November 2018, Michigan voters approved a constitutional amendment to "establish a commission of citizens with exclusive authority to adopt district boundaries for the Michigan Senate, Michigan House of Representatives and U.S. Congress every 10 years." Under the new law, an independent commission of citizens will draw district lines to accurately reflect the population.
LWVMI and Redistricting
In 2012, after a year of study, the League of Women Voters of Michigan adopted a position on Redistricting supporting "the formation of an independent redistricting commission in lieu of the legislature as the primary redistricting body." LWVMI promptly began an initiative throughout the state to educate voters as to their choices and their meaning. Many local Leagues participated in the efforts.
LWVMI became a leader in the Michigan Redistricting Collaborative, a coalition of grassroots organizations educating voters and working toward change. In 2018, the Collaborative, led by Voters Not Politicians, successfully secured over 400,000 signatures to have the Redistricting proposal put on the 2018 ballot. The measure passed and LWVMI took the lead in defending the new law against a number of lawsuits seeking to invalidate it.
Nationally, the League of Women Voters continues efforts in other states, working toward ensuring that voters elect their representatives and not the other way around.
Role of Jackson League
In 2014, Sue Smith, President of the Michigan League of Women Voters at that time, spoke at a JXN Community Forum to educate Jackson voters on redistricting. There was no active league in Jackson then but in attendance were several voters with an active past in the League along with several voters interested in bringing such a vital nonpartisan organization back to Jackson. Thanks to Sue Smith's guidance, the Jackson League was re-born in March 2015. LWVJA immediately began informing Jackson voters about Redistricting choices and many members actively participated in collecting signatures to secure a place for the proposal on the Michigan ballot. We continued our advocacy through the successful passage of the ballot in November 2018. LWVJA has continued to educate about the ICRC.
Independent Citizens Redistricting Commission (ICRC)
– 9,367 Michigan voters applied to participate to become a member of ICRC in 2020
– 200 Applicants randomly selected from 9367 to include:
60 affiliated with the Democratic Party
60 affiliated with the Republican Party
80 No affiliation with either party
– 13 Michigan Voters make up ICRC randomly chosen on August 17, 2020 from 200 applicants
4 affiliated with the Republican Party
4 affiliated with the Democratic Party
5 affiliated with neither major political party
– August 2020: Process of choosing ICRC members completed
– August 17, 2020: ICRC began meeting
– November 1, 2021: Deadline for ICRC to adopt redistricting plan for Michigan's House and Senate and U.S. Congressional districts
– December 2021: New redistricted maps become law
– December 2021: ICRC disbands (or sooner) once Redistricting Mandate is completed
– January 1, 2022: New redistricted maps take effect for voting in Michigan elections
– January 1, 2020: Ten years since LWV began advocating for this change
– 2030: Redistricting Process begins again per Constitution of State of Michigan
Learn More