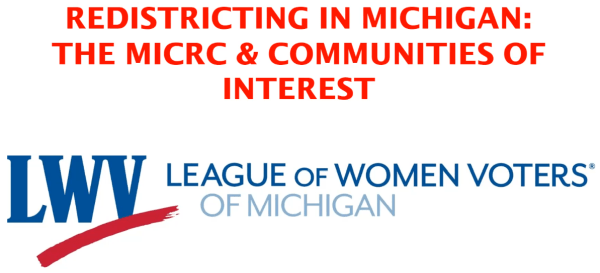 PUBLIC HEARINGS ON MICHIGAN REDISTRICTING PROCESS
This is your chance to participate in history. In 2018, Michigan passed the Constitutional Amendment to end gerrymandering and this year our districts will be drawn by an Independent Commission. The Commission is having its FIRST PUBLIC HEARING IN JACKSON ON TUESDAY.
– PUBLIC HEARING NOTICE –
Historic Opportunity for Citizen Participation in Michigan's Electoral Process Begins:
Jackson Hosts First of 16 Statewide Public Hearings on Michigan Redistricting Process
Michigan residents urged to give their comments, opinions and proposals to inform the work of redrawing Michigan's Congressional, House and Senate districts.
Tuesday, May 11 @ 6:00 p.m.
American 1 Event Center
New Events Center at Fairgrounds/Keeley Park
128 W. Ganson St.
Jackson, MI 49201
To learn more about the redistricting process, a recording of our recent Townhall discussion can be found here: